Újpesti Erőmű
THE ABANDONED POWER PLANT IN HUNGARY
The 'Újpesti Erőmű' power plant was established in the early 20th century in response to the power needs of the railway electrification. The Újpest power plant was started up in 1910.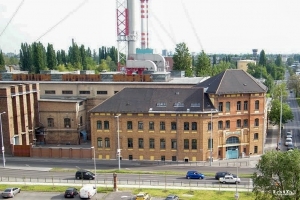 Initially, electricity was generated by alternators driven by piston type steam engines. Due to the increasing electricity demand, the capacity of the power plant was increased and two new power generation units were installed in 1914 and two new steam boilers in 1917. After the end of the Second World War, when 'Kelenföld Power Plant' was not capable to operate, the 'Újpest Power Plant' had to supply also some more distant areas. From 1953, the low caloric value of coal was compensated by the use of heavy oil.
1978
As a result of the increase in the steam demand of the industrial plants at Újpest and of the heat demand of the housing estates, heat supply started also from Újpest Plant. The power plant started to supply hot water for the district heating system in 1978.
At present, the power plant has an installed electrical capacity of 111 MWe, an installed hot water capacity of 342 MWth and a steam delivery capacity of 40 ton per hour. These photos were taken in the oldest part of the power plant. In the early days, there were several steam engines here. Today there is only one engine left on standby for when the demand is high.
I visited 'Újpesti Erőmű' in 2015. Read more reports of abandoned power plants in Belgium, The Netherlands and on the Canary Islands.