Centre De Cure Médicale Salem
THE ABANDONED HOSPITAL IN FRANCE
This 'Centre De Cure Médicale Salem' hospital closed its doors in 2010 due to the merge with another more modern hospitals. The hospital was inaugurated in 1890 as a sanatorium.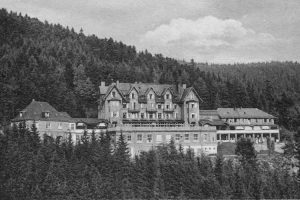 The work on the sanatorium began and August 1889. In the first years, it was used as a holiday center for the sick. In 1903, the center was renamed 'Sanatorium Salem'. During 1920, the sanatorium was bought by the 'Caisse d'Assurance des Employés', a social insurance fund. Since then, the sanatorium has changed owners several times. As a result, the building is undergoing significantly transformations, altering its exterior and interior.
It was built high in the mountains, surrounded by trees. The air of the forest was ideal for the treatment of tuberculosis. Since the discovery of antibiotics, treating tuberculosis did not need specialized hospitals anymore. In 1959 the building was turned into a geriatric hospital with 60 beds until it closed down in 2011. The 110 residents were moved to other care institutes.

Private investors bought Salem in 2018 and reconverted it into a luxury hotel, with apartments and tourist residences. The costs were about 14 million euros. These photos of 'Centre De Cure Médicale Salem' were taken in 2013. Also check my reports of these abandoned hospitals in Germany, Portugal, and France.