Cinema Rex
THE ABANDONED THEATER IN FRANCE
'Cinema Rex' is an abandoned movie theater in Audun-le-Tiche, a village in the north of France. The cinema and its beautiful facade were eventually demolished in 2019.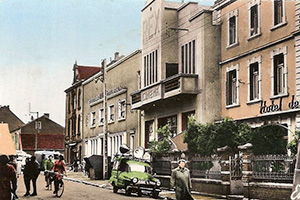 This cinema was originally a parish hall with 250 seats called the Le Royal. Managed by two abbots, the establishment offered a weekly cinema screening, and many plays. When it was taken over by a new private operator, the building was extended and renamed Cinema Rex.

Eventually, the small theater was closed down some years ago. In this case, it couldn't compete to the modern digital theaters. An investor bought the building, but he had no plans to reconvert the place.

Meanwhile, in October 2017 there was a fire inside the cinema. In 2019 the old cinema was demolished, the beautiful facade collapsed during the works. These photos of 'Cinema Rex' were taken in 2013. Follow this link for more abandoned theaters around Europe.