Heilstätte Grabowsee
THE ABANDONED HOSPITAL IN GERMANY
'Heilstätte Grabowsee' is a former lung sanatorium. It was founded in 1896 by the German Red Cross. Later it was used as a military hospital and as a movie set.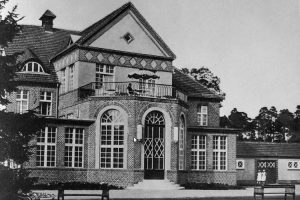 Grabowsee was the first sanatorium for pulmonary tuberculosis in northern Germany. In this case, it was started as a test, to see if lung patients could be cured in the lowlands of Germany. At the time, they believed that only mountain air should have healing effects on the recovery of the patients. By 1900 there were already 200 beds available for men with mild to severe illnesses. Meanwhile, 'Heilstätte Grabowsee' became the Red Cross Sanatorium for the Working Class.

During the First World War, Grabowsee was used as a hospital for the treatment of lung-sick soldiers. Until 1918, prisoners of war were also housed here. Later, the Brandenburg Insurance Company took over the buildings in 1920. 

From 1926, new buildings were built. As a result, the number of beds doubled to about 420 in the early 1930s. Architect Arnold Beschoren was responsible for the complex expansion and renovation. Thanks to the discovery of antibiotics, tuberculosis was cured faster. As a result, hospital stays were no longer necessary.

After the Second World War, it was used from 1945 to 1995 as a Soviet military hospital. The site is now a popular backdrop for movies and photographs. In 2013 the movie 'Monuments Men' was filmed here. Also, the film 'Heilstätten' was filmed at several buildings here. I visited the site in 2019. Today the old sanatorium is private property and is fenced off with a guard on duty.