Villa Viktoriastift
THE ABANDONED CASTLE IN GERMANY
This three-winged 'Villa Viktoriastift' was built in the years 1919 to 1922 by architect August Greifzu in neo-Baroque style. Over the decades, the mansion served as a farm, a children's home, müttergenesungsheim, retraining center and a retirement home.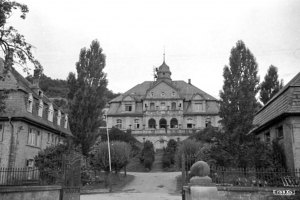 The villa is situated in Finkenbach, Germany. In 1926 the owner, farmer Heinrich Lieser, went bankrupt. Thereupon the estate was sold to a Protestant children's sanatorium who used it as an orphanage with 80 beds. In September 1928, the administrative and housing building burned down in a fire. It was rebuilt a year later. Eventually the orphanage was closed in 1933.
Müttergenesungsheim
In June 1934, the NSV, or 'Nationalsozialistische Volkswohlfahrt' bought the Villa. The NSV was the National Socialist People's Welfare during the Third Reich. Viktoriastift was used as a 'Müttergenesungsheim' and a home for around 120 children of railway employees.

Meanwhile the home was closed in 1943 and a nursing home with an infirmary was established. The nursing home housed between 50 and 85 people. In time there was not much money available, many times there was not enough money for daily food. Under those circumstances every year 6 to 8 people died. The nursing home was closed in 1971 because of the poor management and care.
Since the beginning of the 1990s, the buildings are listed and protected. Since then, various renovation and construction safety measures were made. I visited 'Villa Viktoriastift' in 2011. Today the listed property is privately owned.