SAMGA, Silo B
THE ABANDONED GRAIN SILO IN BELGIUM
Silo B of the SAMGA or 'S.A. Magasins à Grains d'Anvers' site is an abandoned building in the Port of Antwerp. After 70 years of use, today it is on the list to be demolished to construct a new highway.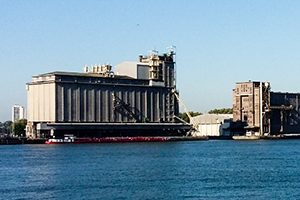 From 1870 on, cheap grain from America, Canada, and Russia arrived by ship in Antwerp. The grain was stored in boats and the compartments were manually emptied. Grain traders wanted to make it easier, more efficient and, above all, cheaper. After SAMGA, short for 'Société Anonyme des Magasins à Grains d'Anvers', built its first silo in Antwerpen in 1895, business was booming. In 1939 this second building was built besides the existing one.

Silo B was made out of concrete and brick. It can store 27,500 tons of grain in 115 silos. Later in 1941 two pneumatic grain pistons from MIAG-G were installed on the dockside with a capacity of 125–150 tons every hour. During the year 1984 they were demolished after a new one of 300 tons per hour was built. In 1971 a third silo was built behind the oldest one, another huge silo was built in 1975. I visited Silo B in 2011 and 2016. The building was demolished in 2020 to make way for a new Antwerp highway. Check also my report of Silo A.