Brasserie-malterie Hazard Paul
THE ABANDONED BREWERY IN FRANCE
---
'Brasserie-malterie Hazard Paul' is a brewery and malt house in Avesnes sur Helpe, France. The company was founded in the late 19th century by Paul Hazard.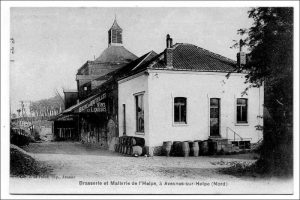 In 1927 the brewery produced between 6 and 12 thousand hectoliters of beer a year. In 1946 the production was about 15 thousand hectoliters of high fermentation beer.

Later the company was renamed Hazard & Cie until the production stopped in 1960. At that time the brewery was converted into liquor shop and in 1985 it is partly used for housing. These photos of 'Brasserie-malterie Hazard Paul' were taken in 2011. Follow this link or more abandoned breweries in Europe.