Locomotivas da Linha do Corgo
THE ABANDONED LOCOMOTIVES IN PORTUGAL
These are the old locomotives of the Linha do Corgo, abandoned at Régua Station. The Corgo Line, originally called the Corgo Valley Line, was a rail link between the Régua Station on the Douro Line and the town of Chaves in Portugal.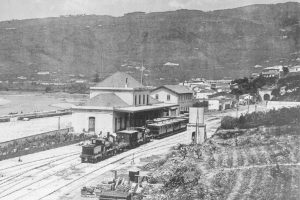 These locomotives were manufactured by the German company Henschel & Sohn, with the first four units being built in 1910. These were the first Mallet-type locomotives in Portugal. They were owned by 'Companhia do Caminho de Ferro do Porto à Póvoa e Famalicão'. A Portuguese company that built and operated train lines in the north of the country. Later the company merged with other lines to Comboios de Portugal, or CP, the national railway company.

The rusty locs are numbered CP E201, E208 and E210. There is no money to restore the locomotives, so they are up for sale. Another Henschel Mallet is preserved, the CP E214, built in 1923 at Kassel was restored. Next to the rusty steam engines, there is also a more modern DMU or, Diesel Multiple Unit. This diesel train was made by Duro Dakovic.

In 2011 the Linha do Corgo was closed for maintenance, but it was never opened for trains again. The line was officially closed in October 2011. These photos of the Locomotivas da Linha do Corgo were taken in 2018. Check out my other train graveyard reports made in Belgium, France, and Poland.