Lokomotywownia Kraków Płaszów
THE ABANDONED TRAIN REPAIR SHOP IN POLAND
This site, Lokomotywownia Kraków Płaszów, is an abandoned train repair workshop in the Polish town Kraków.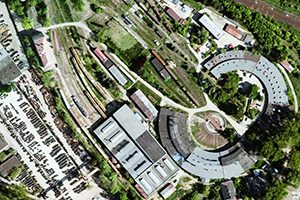 Płaszów was built in 1908. Further, the facilities on this site were expanded in 1927 with offices and technical buildings. Also, the northern roundhouse was enlarged, and the south roundhouse was built. During the German occupation, the locomotive workshops were expanded with the rectangular hall. Both diesel and electric traction vehicles took over the steam locs at the end of the 1950s. Kraków Płaszów became the main and the only railway junction of the Kraków railway. Eventually, in 1970 the locomotive workshop took over the service of diesel locomotives.
From diesel to electric
Diesel locomotives were serviced and maintained here until 2009, then PKP Cargo decided to close down the workshop. However, in 2011, Kraków-Płaszów was reopened. The rectangular hall has been taken over by the 'Kraków Przewozy Regionalne', which performs inspection inspections of electric traction units here. On 13 June 2011, the historical buildings were added to the list of monuments. Although locomotives have not been served in this place for a long time, you can find them here, abandoned and decaying. They were owned by a would-be museum of rolling stock. In the end, the museum was not opened, and the rolling stock was stored here.
Locs
One of the rusty locomotives is the TKw2, a Prussian steam locomotive, manufactured in 1924 in the quantity of 1242 pieces. The loc reached a speed of 50 km/h. After the First World War, Poland received 37 pieces of these machines, after World War II, another 129. The second steam locomotive in this place is Ty51. It is the heaviest Polish steam locomotive, manufactured at HCP in 1953 until 1958. Its rated power was 2,160 hp or 1,588 kW. In total, 232 of them were made, From the late 1960s, they were slowly being forced out by the diesel and electric locomotives.
A third rusty loc on this site, the TKt48-167. It was produced in 1956 and served in Sucha Beskidzka, and then in Jasło. Later, in 1987, the loc was set as a monument in the very center of Lokomotywownia Kraków Płaszów, between the two roundhouses. I visited 'Lokomotywownia Kraków Płaszów' in 2017.