Fort Pancerny Główny '44 Tonie'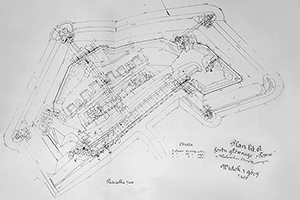 Built: 1878 + 1902
Abandoned: 1992
Visited: 2017
Kraków, Poland
Fort Tonie is one of the many forts of the Kraków fortress. They found traces of wood-and-earth fortifications that dates back to prehistory. But the oldest forts we know today are built in the 1800s and 1900s. In 1948 the Austrians received complete freedom only after the troops of Prussia and Russia were banished from the Krakow. Already in 1849, the first works begin.
1878
Fort 44 Tonie is an armored fort of the Kraków Fortress. It was built in 1878 as so-called provisional work, in the form of an earth-and-wooden rampart. In the years 1883-1885 he was rebuilt into a permanent artillery fort, representative of the then Austrian school of fortification. It belonged to the IV defense sector of the fortress. Tonie defended the Olkusz route.
In the years 1902-1909, the fort underwent a modernization. The artillery rampart was completely transformed for use by the infantry. The main shelter received structural reinforcements, the total thickness of ceilings and exposed walls is 2.5 meter, making it resistant to hits of 28 cm grenades. Modernization was very expensive, the total total cost of construction and modernization amounted to 2.936.406 crowns. It was a sum about two-and-a-half times higher than the cost of a typical, unmodernized artillery fort from the 1980s and as many as seven times the cost of a small armored defense fort from the 1990s.
1914
In 1914 the fort, despite some shortages of weapons, was the most modern and strongest in the fortress. It undoubtedly had the highest resistance to hostile fire. The full-time staff after modernization was 428 soldiers, including 11 officers. The armament included six cannons in an uncovered battery, four cannons in armored towers, another four in the trader, and in the front capon. Two cannons for the defense of the neck moat and eight portable machine guns. Tonie did not participate in the battles during the First World War.
In the interwar period, Tonie serve the Polish Army as barracks. During the German occupation, it served as a warehouse for captured small arms. After the Second World War for many years it was used by the army. It housed warehouses of ammunition and explosives. The army left it at the beginning of the 1990s and until 2008 the fort remained unused, although it was guarded 24/7. In the spring of 2008 the fort was taken over by the Janus Foundation for Active Protection of Monuments of Technology and Cultural Heritage. Fort Tonie is currently undergoing conservation and renovation works, it will be made available for visits.
Photos of Fort Pancerny Główny '44 Tonie'