Agnetendal Peer
THE ABANDONED SCHOOL IN BELGIUM
This is 'Agnetendal' in Peer. The building is an old monastery that housed a secondary school, a boarding school and two primary schools, the 'Kloostertuin' and the 'Preud'homme' school.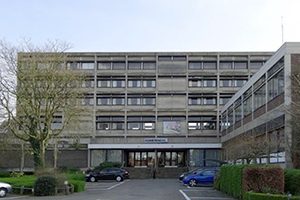 The history of these school grounds go back to 1384 when a monastery was built to house the sisters of Saint Agnes. A chapel was built in 1439 and in 1461 a new monastery and church was built. In 1660 the sisters started a school. All these buildings were demolished or burned down. A new complex was built in 1690.

During 1797, when Belgium fell under French rule, the sisters were expelled by the government. The monastic inventory was sold. The Chapel and other buildings were abandoned. After the French departure, the ownership of the remaining parts was transferred the municipality of Peer in 1821. The buildings were restored in 1827 and were used as a vicarage and chaplain. On May 15, 1871, the Sisters of Mary of Leuven became owners. They founded a new monastery and school for girls under the name Agnetendal.
Kloostertuin
Catholic primary school Kloostertuin was housed in the old monastic building dating from 1698. Agnetendal was housed in another wing built in 1911. A third floor was added to this wing in 1947. The other wings, including the boarding school, all date from after the Second World War. New parts were added in 1950 and 1959. The Girls Boarding school was built in 1964 by architect A. Nivelle.

In 2016 the schools moved to another part of the city. Most of the buildings were demolished in 2018, only the old monastery wing was saved. The photos of this abandoned school were taken in 2018.