Gasthof Zum Goldenen Löwen
THE ABANDONED THEATER IN GERMANY
Gasthof 'Zum Goldenen Löwen' was built in 1875 and received its current appearance in 1898 through renovation and expansion. It was a hotel, restaurant, and theater. The Gasthof, or Inn, was closed in 1965, at the present time the building is neglected and in a very bad state.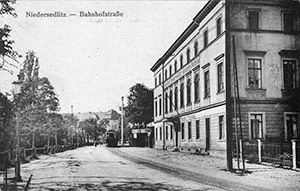 The guest rooms of the hotel were on the ground floor and on the upper floor there is a large theater and a bowling alley. From 1906 the Lockwitztal tramway brought numerous guests right to the front of the building, which is why there was even a dedicated stop until 1914.
The complex was owned by the butcher and innkeeper Karl Gotthilf Beil, from 1898 Theodor Rudolf Freitag took over. After 1945 the building was also used for theatrical performances at times. Usage declined, and maintenance costs increased, this led to the closure of the hall for public use in 1965. From that date on, it served as a warehouse. The restaurant also closed, but at a later time.
Until the 1990s, however, there was still an optician and a shoe repair service in-house. But after decades of vacancy, the building is falling into disrepair.
After the reunification, a holiday center for a fraternity from West Germany was supposed to be built here.
The listed building is one of the few remaining ballrooms in Dresden. There have been many plans to renovate the Golden Lion, most recently in spring 2013. At that time, it was said that an investor wanted to set up a very special service center. The talk was of a night bar with erotic performances and private rooms on one of the upper floors. I visited the complex in 2020.