Gasthof Buchheim
THE ABANDONED INN IN GERMANY
Gasthof Buchheim was a family Inn owned by Heinrich Heinrici. The complex is situated in Buchheim near Bad Lausig. It was abandoned after the unification of Germany in 1992. Much later, it was reconverted and put up for sale in 2023.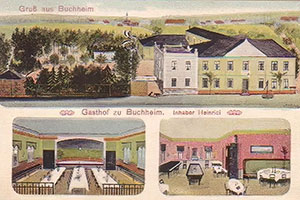 During the DDR times the Inn was used as a restaurant, hotel and ballsaal. It was a place to eat, have coffee, dance and meet locals. The ground floor was also used as a kindergarten. An abandoned Trabant in the garden is the last witness to this era.
Trabant is the name of the German automaking company, which was established in the 1950s and ceased all operations in 1991. Born in East Germany, the brand only lasted for one year after the Berlin Wall fell down. There were almost 4 million cars produced by Trabant during its history.
Gasthof Buchheim was closed down in 1992. It was bought by the city of Bad Lausig not much later. The city sold Buchheim's former inn in 2010, but nothing happened to the complex for many years. Eventually the building became derelict. It took until 2022 before any building activity took place at the old Gasthof. The site was cleaned and partly restored. I visited the Inn and theater in 2020.
The building and the site, 2480 m² big, is now for sale. For 200 thousand euros, it can be yours.