Ecole de Natation Mangombroux
THE ABANDONED POOL IN BELGIUM
This is the abandoned swimming pool named 'Ecole de Natation Mangombroux'. The derelict site will be demolished soon.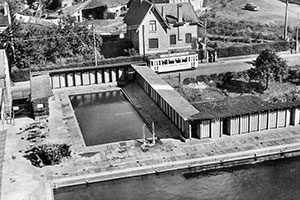 During 1927 the Verviers water polo team is no longer able to play championships in the small swimming basin at the Rue de Dison. As a result, the club was in search of a more suitable pool. Eventually an unused reservoir located in Mangombroux that belonging to the city of Verviers, became their new home.

During the 1928 season, the Verviers poloists had to play in the reservoir, named 'Agolina'. In the summer of 1929 the pool is finally opened. The pool was named 'Piscine Louis Ortmans'. This also saw the birth of 'Royal Verviers Natation', a club that is still active today.

Later a heating system was installed. But due to the high costs, it was turned off in 1939. Important competitions were organized, including several Belgian swimming championships. But the water polo team made the pool famous.
50th anniversary
The use for big championships stopped in the early 1950s. The 50th anniversary of the 'Royal Verviers Natation' was the last big sporting event that was organized here. But every summer season, the pool was used by many kids in the neighborhood.
The open-air swimming pool closed in 2005. It was no longer up to the modern standard. Necessary work was too expensive for an infrastructure that was no longer profitable. There are plans for a partial demolition of the old swimming pool, to allow the construction of 19 apartments. The photos of 'Ecole de Natation Mangombroux' were taken in 2018. See more abandoned pools here and here.