Chateau Rochendaal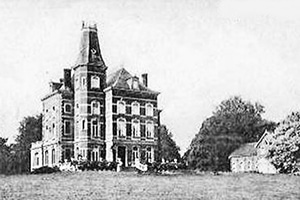 Built: 1881
Abandoned: 1996
Visited: 2006 + 2012
Sint-Truiden, Limburg, Belgium
Chateau Rochendaal was built in 1881 by the lawyer Jean-Henri-Paul Ulens. Ulens was mayor of the city of Sint-Truiden from 1878 until 1891.
Later the castle is bought by the government. It is added to the Barbanson quarter, a military school of the Belgium air force. The military site was built in 1940 by the Germans. After the war the domain was owned by Belgium army again. The Belgium air force used the domain to accommodate airman, candidate airman and staff. Rochendaal served as a officers home and was renamed 'Building 22'.
The castle is a building with many artifacts. The beautiful details on the ceiling, the wooden tiger heads on the fireplace and the view on the outside are marvelous.
Fire
In 1996 the military site is closed down. The building become abandoned and are now ruined by squatters and thieves. On 13 September 2017, the castle was destroyed by a fire. Even after the fire, the city of Sint-Truiden still wants to take over the castle and domain. According to the master plan for the site, the 16 hectares would become residential area and a park.
Photos Chateau Rochedaal