Kwartier Barbanson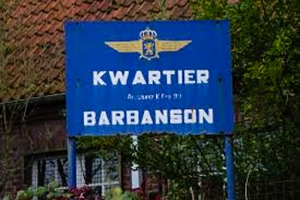 Abandoned: 1996
Visited: 2006 + 2018
Brustem, Limburg, Belgium
In 1982 the military site in Bevingen, part of the Brustem airfield officially received the name Kwartier Barbanson. The Barbanson quarter was a military school of the Belgium air force.
Jean-Jacques Barbanson was born in Paris in 1918. On 1938 he joined the Belgian Airforce. In the early morning of 10 May 1940 he was working at the airport of Goetsenhoven when the Luftwaffe attacked the airfield. A wounded Barbanson tried to fight a fire in one of the hangars. Sadly, he lost his life doing this. The General Staff decided to honor Barbanson, and they assigned the name Kwartier Barbanson to this military site, then home to the Air Force Enforcement Center.
The site has about 25 blocks of barracks. Besides the soldiers rooms we found several bars and restaurants. Life didn't looked that bad for the upcoming soldiers. In 1996 the place is closed down, most of the site is used again as a shelter for asylum seekers.
Photos Kwartier Barbanson