Centrale Électrique de Monceau-sur-Sambre
THE ABANDONED POWER PLANT IN BELGIUM
This 'Centrale Électrique de Monceau-sur-Sambre' is a huge power plant that closed its doors in 2006. It was built in 1921 and abandoned in 2010. Eventually the site was demolished in 2020.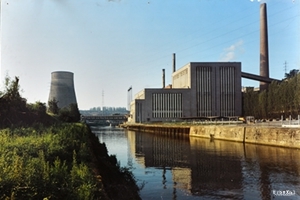 The power station was built in 1921 by the 'Charbonnage de Monceau Fontaine' and ran on coal. It was operated by Intercom, which later became known as Electrabel. In the 1950s, the power station is modernized and furthermore a new unit is built. The factory buildings, designed by F. and L. Vandenbroucke, consisted of three brick volumes of decreasing height, with large glass sections. The cooling tower was on the other side, the right bank of the river Sambre.

During the 1970s, modifications made it possible for the plant to burn High Furnace gas. Therefore, a gigantic pipe line is built between the HF4 site and the power plant. Production stopped in 2007, but some facilities, such as pumps, remained in operation until 2010.

In the end newer and greener plants will take over. Demolition of the site started in 2014, but most of the plant is still standing today. I took these photos during my visits to 'Centrale Électrique de Monceau-sur-Sambre' in 2009, 2014 and 2018.