Skytech Helicopters
THE ABANDONED HELICOPTERS IN BELGIUM
These Mil-helicopters are the biggest helicopters in the world. The helicopters were used by Skytech, a Belgium company providing helicopters for heavy lift and utility services around the globe.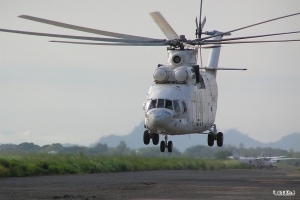 Skytech was founded in Belgium in November 1989 by helicopter pilots Thierry Lakhanisky and Lucienne De Dryver. The company bought the first Russian made Mil helicopter in 1994.

The helicopters are the type 'MI-26T' or 'Ми-26T' helicopters, the largest and most powerful helicopter to have gone into serial production. In fact these giants can load 20 thousand kilogram and can reach a speed op 295 km/h. The helicopter was designed by Marat Tishchenko, protégé of Mikhail Mil, founder of the OKB-329 design bureau. OKBs were closed institutions working on design and prototyping of advanced technology, usually for military applications.
Chernobyl
Another version of this aircraft, the 'MI-26S' was a quickly developed version for disaster relief tasks immediately after the Chernobyl disaster at the Nuclear Power Plant in 1986.

These helicopters where transported from the airports of Bierset and Gosselies to the harbor of Zeebrugge. Normally the machines had to be shipped to Russia, but due of financial problems they are stuck at the site of the transport company. I photographed the 'Skytech Helicopters' in 2010. Eventually the helicopters were sold as scrap in 2015.