Skytech Helicopters
THE ABANDONED HELICOPTERS IN BELGIUM
These 'Skytech Helicopters' are the biggest helicopters in the world. The helicopters were used by the Skytech company, a Belgium company providing helicopters for heavy lift and utility services around the globe.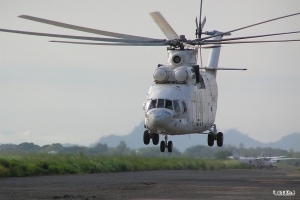 The helicopters are Russian made 'Mil MI-26T' or 'Ми-26T' heli's. These giants can load 20.000 kg and can reach a speed op 295 km/h. Another type, the 'MI-26S' was a hastily developed version for disaster relief tasks following the Chernobyl nuclear facility accident. These helicopters where transported from the airports of Bierset and Gosselies to the harbour of Zeebrugge. Normally the machines had to be shipped to Russia, but due of financial problems they are stuck at the site of the transport company.
I photographed the 'Skytech Helicopters' in 2010. The helicopters were sold in 2015.