Hembrug
THE ABANDONED FACTORY IN THE NETHERLANDS
In 1900 this ammunition factory moved from Delft to this site, it was named after the close-by bridge 'Hembrug'. The factory was bought by the Dutch Government in 1912 and employed 1.200 people at that time.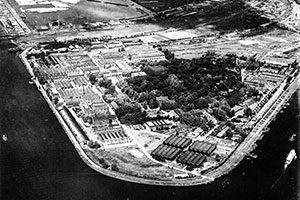 In the year 1672 the army of the Republic of the Seven Provinces found itself in a neglected state. Therefore, in 1677, Willem III van Oranje founded the corps artillery. In 1679 the State Ammunition Company in Delft was established.
Artillerie Inrichtingen
In 1887 the company was renamed 'Artillerie Inrichtingen'. Production was no longer centered in Delft because the company's existing site had no space left to expand. The company chose a new base of operations near Zaandam. In 1907, a railway bridge was opened over the canal called Hembrug. Eventually the name of the bridge would pass on the company.
During the First World War the factory had almost 8.500 people working. After the war the future was uncertain, as a result the employees were brought back to two thousand. In 1928, the organization of the company was changed to that of a public limited company which allowed for greater freedom of business management. During the Second World War the factory was almost bombed to prevent the take-over of the German occupation. But the place was not bombed and as a result the German army took over. The Nazis kept the plants working during the war, but the workforce fell sharply.
Eurometaal and Hembrug Machine Tools
After the war the factory was restarted, but instead of ammunition it produced agricultural machinery and other metal products. In 1973 the Dutch government divided the company into two independent parts: Eurometaal and Hembrug Machine Tools. Eurometaal was eventually taken over by the German Rheinmetall and stopped production in 2003. However the Hembrug Machine Tools company still makes precision lathes in its Haarlem factory.

The abandoned site was heavily polluted, but today the site is redeveloped into a workspace for creative activities and an event location. There are still a large number of industrial plants in the Hembrug area. On the site of the old factories, the Hembrug Museum displays information about the past, present and future of its activities. I visited 'Hembrug' in 2009. Also read my report on this Belgium ammunition factory