Tour & Taxis
THE ABANDONED STATION IN BELGIUM
'Tour & Taxis' or 'Thurn en Taxis' is is a large former industrial site in Brussel, Belgium. The site is composed of both large warehouses and offices surrounding a former freight station and its spacious central hall, known as the Royal Depot.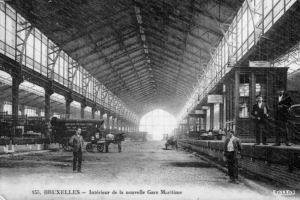 The site is named after the Princely House of Thurn und Tassis, a German family that was a key player in the postal services in Europe in the 16th century.
During the beginning of the 20th century, the Belgian Railways constructed this freight station. The maritime station was not used by passengers. In fact it was only for merchandise in transit or for storage. 'Tour & Taxis' was one of the first multimodal freight transport platforms in the world. Frédéric Bruneel served as the main engineer for the project, while Ernest Van Humbeeck, Constant Bosmans and Henri Vandeveld worked as architects. Their style was influenced by both the Flemish Renaissance and the Art Nouveau style characteristic of early twentieth century Brussels.

Eventually the Entrepôt Royal was the first to be redeveloped, the original train track running through the bonded warehouse was replaced with an inner walkway. Meanwhile the former storerooms on the upper floors and the customs building were converted to office space. The Entrepôt des Sheds now hosts large events. Also the Hôtel de la Poste, the former administrative building, is now used for meetings and events. I visited 'Tour & Taxis' in 2010. Follow this link for more abandoned stations.