Anco Pasta
THE ABANDONED FACTORY IN BELGIUM
The 'Anco Pasta' factory was built in the early 1930s. The company from founder Antoine Coppens has a rich history. It produced several pasta varieties such as macaroni and spaghetti. Today, the site is reconverted to a living area.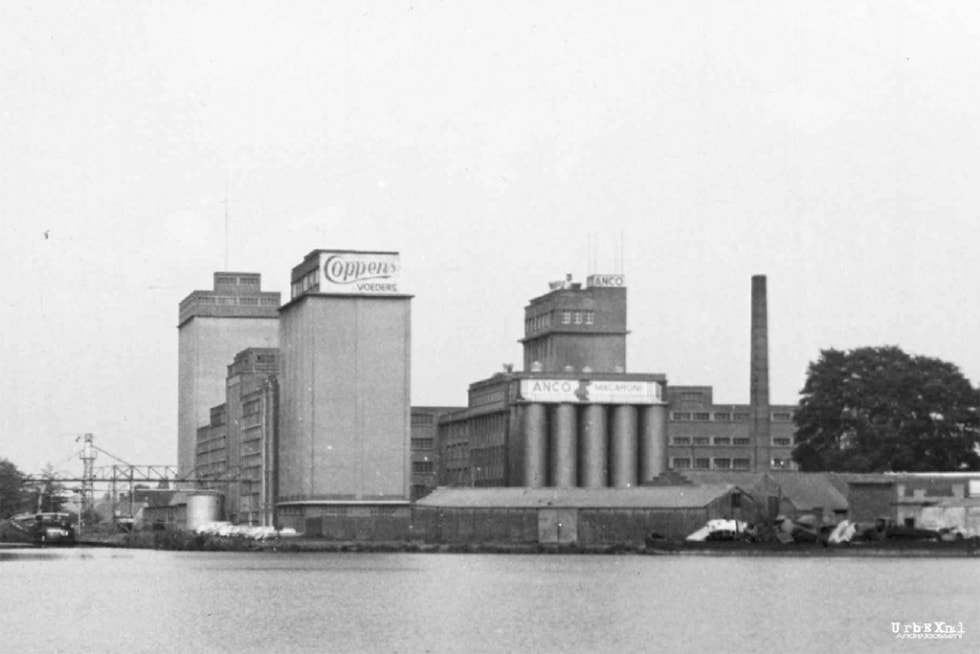 In 1922 Antoine Coppens bought an old milk factory in Turnhout and converted it into a compound feed factory. Business went so well that in 1930 he bought land at the Nieuwe Bassin, the turning basin in the canal northwest of Turnhout. A new oil and pastry factory and a fully mechanized flour mill were built along the Dessel-Schoten canal.
Pasta
During the Second World War, the factory buildings suffered extensive damage, it took two years to resume production. After a thorough study of the most modern production methods in Italy and Switzerland, a pasta section was established two years later. A semolina mill, which supplied the raw materials for these pastas, was inaugurated shortly afterward. Later, a rusk factory was started in 1960. In 1975 Anco merged with Remy and the factory in Turnhout was expanded. During half a century, the workforce had grown from three to three hundred employees.
The animal feed factory burned down in 1981 and was not rebuild. Anco focused on its pasta production and eventually became a market leader in Belgium.
CSM-Heinz
During the 1990s, the Dutch CSM group bought the factory. In 1998, the production of pasta was moved to other factories and the Anco site was reconverted to a flour, semolina, and breadcrumb production plant. The American company Heinz bought the company in 2001 together with other CSM companies. The Americans soon made it clear that they wanted to get rid of the factory in Turnhout. They started negotiations with heirs of Antoine Coppens, but there was no new buyer found.
The pasta factory closed in the summer of 2002. In 2005 Soubry buys the Anco brand. The factory complex stood empty for more than ten years until plans were developed to transform the Nieuwe Bassin from an industrial area to a residential area. Today the buildings are reconverted to 120 single and family apartments, offices and shops. I visited the pasta company in 2005.