Algemeen Burger Gasthuis
THE ABANDONED CARE CENTER IN THE NETHERLANDS
'Algemeen Burger Gasthuis' is a catholic infirmary in Bergen op Zoom, a city in the south of The Netherlands. The buildings were partly demolished and reconverted in 2015.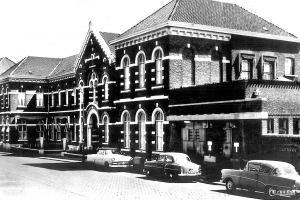 The local infirmary was built in a Romanesque Revival style by architect C.P. van Genk in 1880. It developed from a catholic hospital for the poor into a regional general health care facility.
The new hospital in Bergen op Zoom had two wings. The
the right one was for male patients, the left one for women. However the high nursing prices ensured that only a few patients were admitted during the first years. In fact only two or three new patients arrived in the hospital per month. In 1909 a surgery was set up and also a disinfection oven was purchased. Also central heating was installed throughout the building.
Later in 1931, the building was partly demolished to make place for a more modern building. Also the old big chapel was part of this demolition. On an old postcard I found during my visit in 2012, you can still see this chapel in use. The hospital lost its function in 1959 and thereupon became a care home for the elderly.

In 2010 the wings that were built in 1931, are demolished. The residents were consequently moved to a newer and more modern infirmary in town. The old building from the 1800s is protected and for rent as office space. The newer buildings were eventually demolished in 2015. These photos of 'Algemeen Burger Gasthuis' were taken in 2012.