Zware Plaatwerkerij De Schelde
THE ABANDONED FACTORY IN THE NETHERLANDS
The 'Zware Plaatwerkerij' is a factory specialized in sheet metal fabrication. It was part of 'De Schelde Shipyard' in Vlissingen. The history of the 'NV Koninklijke Maatschappij De Schelde' or 'Royal Schelde Group' starts in the year 1875. In that year the yard De Schelde was established as founder Arie Smit took over a former naval yard.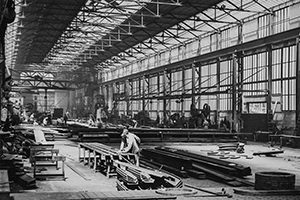 The sheet metal workshop was built in 1929 when the business was good for the Royal Schelde. More than 400 ships were built on the yard. In 1961 The Schelde moved to the Sloe area. The old buildings in the center of Vlissingen were used to build luxury yachts but in the 1990s the Royal Schelde was taken over by the Damen group and the site was sold to the city of Vlissingen.
The halls in the city center, including the plaatwerkerij, were abandoned in 2008. Only the head quarter is still in use. The halls were cleaned and partly demolished. In 2009 also the sheet metal works were partly demolished, a small, protected part of this factory is still there. It was used for cultural events and used to be open for public on regular basis. In 2016 the hall was converted to a home for the elderly. A big project were new architecture meets the old industrial architecture. More photos of this abandoned shipyard click here. Also check De Timmerfabriek, Bedrijfsschool and Machinefabriek. I visited the 'Zware Plaatwerkerij De Schelde' in 2007 and 2009.