Nato Satcom
THE ABANDONED MILITARY SITE IN THE NETHERLANDS
---
'Nato Satcom' was an abandoned military site with a radar dome and was an important junction of speech and data transfers in North Europe.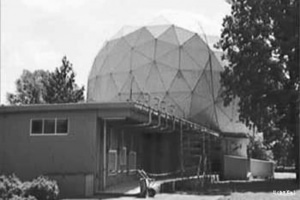 These photos were taken during a visit to the NATO satcom building in Schoonhoven. The buildings were built in the 1970's supporting the 'Regional Headquarter Allied Forces North Europe', or 'RHQ AFNORTH'. The site has several buildings, barracks/offices, and the radar building and ammunition depots hidden in a normal looking farm building.

The antenna bowl on the radar building is 12 meters big. About 18 employees worked on the site, that was in use seven days a week for 24 hours a day, until it was abandoned in 2005. I visited the 'Nato Satcom' in 2009. Also check my report of the Belgium based Nato Satcom.