Pensionnat Catholique de Fénétrange
THE ABANDONED SCHOOL IN FRANCE
This large building 'Pensionnat Catholique de Fénétrange' was built as a catholic boarding school for girls. The school was built during 1937, replacing a smaller school on the same site.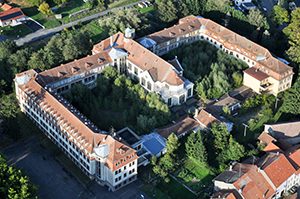 The first boarding school of the 'Sisters of Divine Providence of Saint Jean de Bassel' opened its doors in Fénétrange in 1894. It was housed in an old seminary. The catholic school finally became too small to accommodate the hundred students and the Sisters. As a result, the construction of the new school began in 1936. The chapel was completed later in 1939. It was named 'Pensionnat Notre-Dame de la Providence'.
During the Second World War, the school was occupied by the German army, until the Allied forces took the building and gave it back to the city. The west wing, with a primary school, was built in 1956. The large building accommodated up to 626 students in 1974. In the following years, the number of students signing up gradually started to decline. However, a new boarding school for boys was inaugurated in 1987.
The school finally closed in 2001. As a result its vast corridors, gymnasium, mess rooms, countless classrooms, dormitories and chapels, all inaccessible to the public, are now immersed in an impressive silence. I visited 'Pensionnat Catholique de Fénétrange' in 2013. Follow this link for more abandoned boarding schools.