Cérabati
THE ABANDONED FACTORY IN FRANCE
This is the derelict factory 'Cérabati' an acronym for 'Compagnie Générale de la Céramique du Bâtiment'. The site was abandoned in 2011, after more than 100 years of producing ceramics.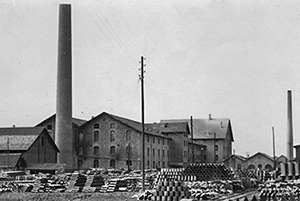 The company 'Utzschneider, Jaunez & Cie' was founded in 1901. The company produced acid-resistant transport pipes and acid-resistant containers for the chemical industry. The village Betschdorf was rich in clay soil, so it attracted many companies using this raw material for its production.
In 1921 the factory was renamed 'Compagnie Générale de la Céramique du Bâtiment' or in short 'Cérabati'. In the 1930s, the factory in Betschdorf became the largest French producer of pipes and accessories in salt glazed stoneware.
But in the 1970s, there was no market for sandstone pipes anymore. Other materials became more popular. As a result, the Cérabati factory started to produce rustic tiles. The floors of many houses built during the 1970s and 1980s are covered with tiles from the Cérabati.
The company eventually sold its tile factory to France Alfa in the early 1990s. Other factories were also sold or closed. In 1995 the Marazzi Group took over, and after more merges the company eventually was taken over by Dorcas Ceramics Ltd. The old Cérabati factory in Betschdorf was closed in 2011. I visited the factory in 2017. The site was demolished in 2020.