L'église Sainte Marie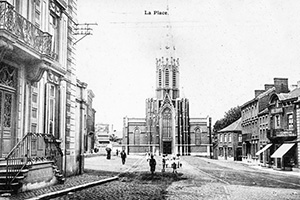 Built: 1876
Abandoned: 2012
Visited: 2017
Hainaut, Belgium
This abandoned church in Wallonia was built in 1876 by architect Emile Ryez. It was built in a neo-gothic style with a beautiful arched ceiling. This is why the church was also named Eglise aux Mille Arches.
In 2012 works started to renovate this church. But when a side aisle collapsed it became clear there where more problems with the building. Not much later one of the arches split. The mayor had to close down the church, the parish had to find another building to host the Sunday services and other meetings.
Future renovations will depend on the future municipal budget. For now the church is rotting away.
Photos L'église Sainte Marie