Germania-Brauerei Oschersleben
THE ABANDONED BREWERY IN GERMANY
This is the abandoned Germania-Brauerei Oschersleben, a small city in Saxony-Anhalt, Germany. The beer maker started in 1865 and was shut down in 1995. Today the brewery is in ruins.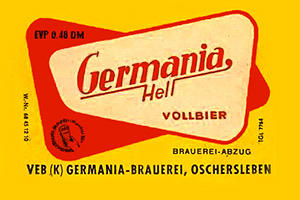 Beer has been brewed in this town since the 15th century. Grain and hops came from the city and the surrounding area. In the 19th century, there were already five municipal breweries. This brewery is founded in 1865 by August Storch and named 'Brauerei Storchshöhe'. During 1915 the brewery was taken over by merchant Walter Görtz and was renamed 'Germaniabrauerei'. In 1931 the building was enlarged with a new brewing hall.
After the Second World War, the company became the 'VEB Brewery Oschersleben' and later 'VEB Germania-Brauerei Oschersleben'. In 1965 the brewery merged with the 'Brau und Malz-Union Hadmersleben', but it kept its own brand Germania.
1967 became an important year when the brewery brought a new type of beer, a German Pilsner called 'Gambrinus Pilsator' onto the market. Initially the annual production was 4 thousand hectoliters, but due to the demand, production increased to 63 thousand hectoliters by 1989.
However, the unification of Germany and its political change brought an end to this business. In 1995 the brewing operations were stopped and as a result the brewery closed. I visited the abandoned brewery in 2020. More reports of derelict breweries around Europe can be found here.