Kościół Święta Heleny
THE ABANDONED CHURCH IN POLAND
The 'Kościół Święta Heleny' or 'Church of Saint Helena' is a historic Catholic Church located in the abandoned Polish ghost village Wróblin Głogowski. Today the church is in a bad state and will eventually be a ruin.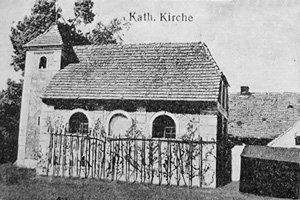 Wróblin was located close to the copper smelter 'Huta Miedzi Głogów'. This factory produces quality cathode copper, lead,selenium and precious metals such as silver and gold. In particular, the pollution of the natural environment by the factory, forced the inhabitants of the village to leave. Only one farm and the church are still there today. All the other buildings were eventually demolished years ago.
The church belonged to the nearby Corpus Christi parish from Brzeg Głogowski. The old Catholic Church is a classical brick building built in 1810. In 1964, the church was renovated by the inhabitants of Wróblin, the renovation is remembered by a tablet inside.
The church is unused and in a bad state at the present time. But the beautiful paintings have been preserved on the walls and ceiling.
Not only the village turned into a wilderness, but it also officially ceased to exist. Meanwhile, Wróblin is located within the administrative borders of Głogów and is inhabited by only one family. However, there are no future plans for the 'Kościół Święta Heleny' church. For more abandoned churches, follow this link.