Ecole Moyenne de Filles
THE ABANDONED SCHOOL IN BELGIUM
'Ecole Moyenne de Filles' is an old girls nursing school in the center of the Belgium city Verviers. The old building had been abandoned somewhere in the mid 1990s.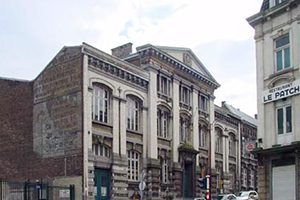 The construction of a school building was carried out by the Brussels architects Benoît and Vanderstraeten between 1874 and 1876. It was first used as a nursery school. In 1881, the school was taken over by the State and it became a secondary school for girls. In 1946 the buildings housed a nursing high school for girls and was renamed to 'Athénée Royal'. It was used for educating girls until 1998.
Architecture
The school has some great architecture. Not only the facade, but the inner court covered under a magnificent glass roof is a highlight of this location. The building has been sold to transform it to offices. The in 2005 protected buildings were reconverted in 2019. A large part of the heritage is classified. All or almost everything must be preserved and restored as is. Only the old gym was demolished. I visited 'Ecole Moyenne de Filles' in 2014.