Crypte Belgrade
THE ABANDONED CRYPTE IN BELGIUM
The 'Crypte Belgrade' is an abandoned crypt or burial vault in the middle of an old graveyard. Many people are buried here in this underground graveyard, the city gave up on maintenance some years ago and therefore closed the crypt for public.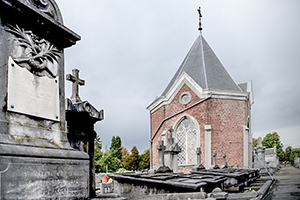 Crypte Belgrade in the Belgian city Namur was opened in 1882. It has three galleries arranged in the shape of T, each gallery has about 400 rooms that can accommodate the remains of the deceased.

The two galleries forming the head of the T are consistent with the paths on the surface. The monuments found at ground level correspond to the graves underground, this allows families to gather without having to access the underground. This crypt is the largest in Wallonia. In 2017 the derelict burial vault was restored to its old glory and opened again. I took these photos of the 'Crypte Belgrade' in 2009.