Colonia Montana Luraschi
THE ABANDONED ORPHANAGE IN ITALY
'Colonia Montana Luraschi' is an abandoned sanatorium in Saltrio, a small village close to the Swiss border. The building closed its doors in the late 1970s.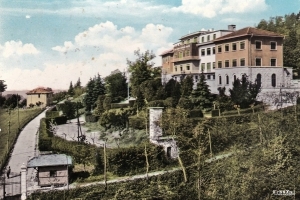 The building was built in 1935 as a sanatorium for children. Two years later, it became property of the National Fascist Party. In 1943, when the war seemed over, a teacher removed the fascist insignia from the institute, the teacher was punished for having removed the logo's and was dismissed. On 25 April 1945, Nazi soldiers and some soldiers from the Repubblica of Salò barricaded themselves inside the building, but the next day they surrendered without bloody events. 
The owner of these buildings after the Second World War was the 'Istituto Nazionale per l'Assicurazione Contro le Malattie' or, in English, the 'National Institute for Health Insurance'. It was a mountain summer camp for children, run by nuns.
The building got abandoned many years ago, but had still all his inventory inside when I visited it. Big bedrooms, classrooms, a chapel and the first aid room, just like it was left years ago. These photos of 'Colonia Montana Luraschi' were taken in 2014. In 2015 the building was trashed, the beds were removed, leaving empty rooms and walls full of graffiti.