Sanatorio Guido Salvini
THE ABANDONED HOSPITAL IN ITALY
'Sanatorio Guido Salvini' was built in 1923 and served as 'Ospedale Sanatorio Vittorio Emanuele III', an avant-garde anti-tuberculosis sanatorium to combat the epidemic that struck Milan from the mid-19th century. Later it became a general hospital named 'Santa Corona Hospital'.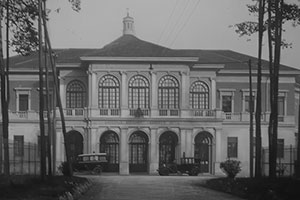 The Municipality of Milan had already planned a center for tuberculosis patients since 1911. The disease was a constant threat both in the cities and in the countryside. The number of deaths caused by it were alarming, 46 thousand victims were registered in Milan between 1850 and 1900.
The sanatorium was built by the municipal architect Giannino Ferrini. The First World War slowed down the construction work, and the sanatorium was eventually opened in 1923. It was named after Vittorio Emanuele III. The hospital is located in the Groane pine forest in Garbagnate Milanese. Head of the medical staff was professor Enrico Ronzani. The new sanatorium was financed by Dr. Guido Salvini, a doctor who had been traveling through the province aboard his buggy to treat the inhabitants of the local farmhouses.
Pio Istituto di Santa Corona
In 1929 a new 800-bed pavilion was built for women and the following year a children pavilion with a thousand beds was added. During the Second World War, more precisely in 1942, the 'Pio Istituto di Santa Corona' took over. On August 29, 1946, after an entire life dedicated to people suffering from tuberculosis, Guido Salvini died.
Sanatorium Guido Salvini
In 1951 the radiology department was renovated and expanded, while the heating system was converted from oil to methane and connected directly to the Agip network. The following year, the divisions of General Surgery and Medicine and Pneumology were established. Due to the introduction of antibiotics in 1955, the sanatorium was converted into a general hospital. The name was changed to 'Sanatorium Guido Salvini'. In 1998 the hospital was renamed 'Santa Corona Hospital'.
Next door to Santa Corona, a new and modern Guido Salvini Hospital was inaugurated on 12 October 2015, leaving the old sanatorium abandoned. I visited the empty hospital in 2021. Today, the site is heavily trashed and a victim to local youth. Follow this link for more abandoned hospitals.