Knappschaftsheilstätte Sülzhayn
THE ABANDONED HOSPITAL IN GERMANY
Located in the southern Harz I found this abandoned hospital 'Knappschaftsheilstätte Sülzhayn'. It was abandoned in 1997 and eventually demolished in 2009.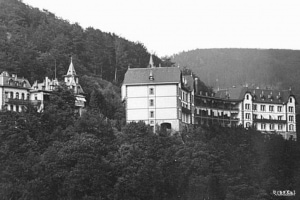 During the year 1896 they started building this site, up a hill in the middle of the woods. The buildings were designed by architect Gustav Hasse.

It took two years to built the complex, eventually in 1898 the first of the 100 patients that could be treated here were admitted. It was initially used as a lung sanatorium for miners. Emil Kremser was appointed senior doctor. In 1929 the hospital was enlarged to house 155 patients.
During the two World Wars, it served, like many other health and spa institutes, as a military hospital. Later, during the post-war period, the Soviets used the hospital for the treatment of lung patients again. This time under the name Gesundheits Einrichtungen Sülzhayn. In 1994 it was bought by Sanmeda Klinik-Betriebs. The building was abandoned during 1997, all the 61 patients were moved to a new Sanmeda building in Haidberg. I took these photos of the abandoned Knappschaftsheilstätte Sülzhayn in 2009. ten years later the buildings were demolished. Follow this link for more abandoned sanatoria in Europe.