Château César
THE ABANDONED CASTLE IN BELGIUM
'Château César' in Andenelle was built in 1903. The building was abandoned since 2009 and eventually demolished in 2017.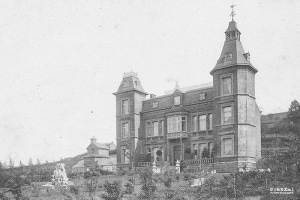 The castle was built on behalf of Auguste César and his wife Marie. Originally it was named 'Château de Champnoul', but locals named it after the owners, the César family. Auguste was a carpenter, owning a furniture factory in Verviers. He died in 1914 and the heirs squandered his fortune by gambling, as a result the château was sold.

The 'Chaplains of Labor' or in French 'Aumôniers du Travail', bought the castle in 1938 to make it an apostolic school. The intention was not only to give young people better training in the professional field, but also to give them a certain humane and religious education. The castle housed three priests.
Magermans Printing
During the year 1958 it was bought by Rémy Magermans, who owned a printing workshop. Magermans Printing was a well known name in Belgium. The company was founded in the late forties. A decade later, it moved to the castle. The château itself was used as office and house for the family. Surrounding buildings were used as workshops. The company closed when founder Rémy Magermans died in 2009. The buildings were abandoned until 2017, when the workshops were demolished.

The mayor of Andenne ordered its urgent demolition, even before the planning permission was granted. A demolition which not everyone likes and which reminds a bit of the saga of Noisy castle. Five apartment blocks will be built on the site. The photos of 'Château César' were taken during my two visits in 2014.