Castello Nuovo di Rovasenda
THE ABANDONED CASTLE IN ITALY
The abandoned 'Castello Nuovo di Rovasenda' looks like it was built in medieval times, but it is actually not that old. In fact it was built in the 1920's as a copy of the old Rovasenda Castle, a castle situated 100 meters down the road.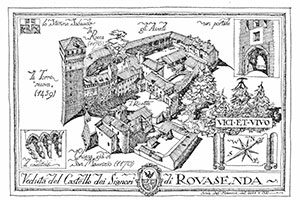 The original castle was built in 1170 by Alberto di Rovasenda. First it was exclusively for military purposes, but later it was transformed into a stately home between the 15th and 16th centuries.

Many generations later the heirs were in a family dispute. It was not clear who owned the castle. Count Luigi Casimiro di Rovasenda discovered that he was not a direct descendant of Alberto di Rovasenda. The count was in trouble because he promised the castle to his fiancée. She threatened to leave him in case he did not get the castle. Then the count asked the important Turin architect Carlo Nigra to design a new castle, identical to the other.

Eventually it was built just outside the village, complete with many fresco's and beautifully painted walls and ceilings. I visited 'Castello Nuovo di Rovasenda' in 2010. Check this link for more abandoned castles.