Auguste Viktoria Klinik
THE ABANDONED HOSPITAL IN GERMANY
This is the abandoned Volksheilstätte in the spa town of Bad Lippspringe named 'Auguste Viktoria Klinik'. After more than 100 years of use, it was abandoned.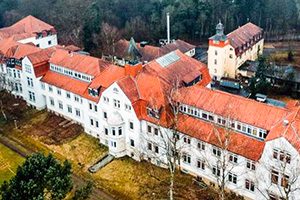 After the visit of Empress Auguste Viktoria, money was saved to build this lung sanatorium. Lung specialists were already working in the city, so Bad Lippspringe was an easy choice.

Eventually, works on the clinic started in 1900. In the following couple of years, two identical buidings were built, a Catholic and Evangelical hospital wing. The ceremonial opening of the clinic took place in 1901. Seven years later, a new wing closed the open space between the two buildings. In 1908 a Catholic chapel was built. Two years later, a Protestant chapel and a laundry were added. In 1910 the sanatorium housed 240 beds.
Second World War
At the time of National Socialism, the Protestant wing was seized in 1944 by the Schutzstaffel (SS) and used as a reserve hospital. In 1945, the British army confiscated the entire hospital complex and quartered Soviet prisoners of war with lung diseases.

The year 2010 was the beginning of the end for the Auguste Viktoria Klinik. After, patients were moved to a nearby hospital, and as a result only a few wings remained active. These were later closed, followed by many years of vacancy and decay.

In 2018 the buildings as well as the parks in the areas in front of the clinic were protected. On 16 September 2018 there was a fire in the main building. However, the fire department was able to prevent it from spreading to the roof and other parts of the building. In 2020 the hospital was partly demolished. The photos of this abandoned Auguste Viktoria Klinik were taken in 2017.