Atelier Central de Réparation
THE ABANDONED TRAIN WORKSHOP IN BELGIUM
This is the abandoned Atelier Central de Réparation, a train workshop in Belgium. The NMBS had four central workshops, where train sets are maintained, repaired and renovated. In 2019 two sites were closed and moved to a new site in Melle.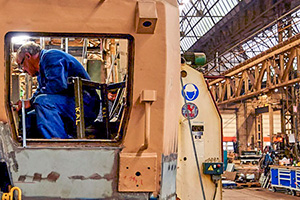 The Central workshop of the NMBS is nicknamed 'Het Arsenaal'. In fact, it is the oldest Flemish railway workshop, built in 1881 by architect Stasino and taken into use in 1884. Initially, it was responsible for the repair of steam locomotives and freight wagons.
The main activity of Gentbrugge's central workshop was to carry out major overhauls, conversion, and repair of freight wagons. It also supplied and stored spare parts and tools. It also housed a mobile team that can intervene throughout the region.
Only the south-eastern part with its blacksmith shop and Turning Shop are still authentic, the other departments like the manufacturing yard and depots were completely rebuilt and enlarged over the years.
In 2019 a new multipurpose NMBS-workshop in Melle replaced both the traction workshop Merelbeke and this central workshop Gentbrugge. Both sites were outdated and not equipped to service the new train types. The new workshop is built on the old marshaling yard on the axis of the important railway lines Brussels-coast-Antwerp. Eventually the 12 hectares site was abandoned in 2019, I visited the site the same year. Today, the site is for sale. Also check the Tour & Taxis site in Brussels.