Métallurgique d'Espérance-Longdoz Chertal
THE ABANDONED FACTORY IN BELGIUM
This steel factory 'Société Anonyme Métallurgique d'Espérance-Longdoz' in Chertal was built in 1963. The factory produced more than 3.5 million tons of steel per year. From 2011 production started to decrease due to the crisis.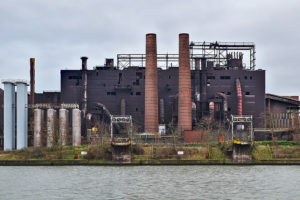 In 1845 the Dothée brothers established a tinplate factory in Longdoz near Liege. Eventually, the company became the largest Belgian producer of sheet metal. The plant in Longdoz, however, could not expand. In 1963 a new plant was built on a greenfield site at a reclaimed floodplain island near Chertal.
Linz-Donawitz process
The plant was supplied by blast furnaces Seraing HF6 and Ougrée HFB. Products were transported over the 22 kilometer railway by torpedo wagons. The steel was produced by the Linz-Donawitz process. This is a steelmaking process for converting molten pig iron into steel. This is done by blowing oxygen through a lance over the pig iron inside a converter. The site also had facilities for iron desulfurization, vacuum treatment and much more.

The company was sold to 'Cockerill-Ougrée-Providence' in 1970 to form 'Cockerill-Ougrée-Providence et Espérance Longdoz'. Later it became part of 'Cockerill-Sambre', 'Usinor' and ultimately 'Arcelor'. Finally, it became 'ArcelorMittal' through the mergers of its parent companies.
Production briefly stopped in from May to April 2009 due to the economic downturn caused by the financial crisis of 2007–2010. In October 2011 ArcelorMittal announces the closure of almost the entire hot phase of Cockerill. Both blast furnaces HF6 and HFB, and this Chertal plant were doomed. More than 600 direct jobs were lost. I visited 'Métallurgique d'Espérance-Longdoz Chertal' also known as 'Heavy Metal' in 2019.