Lever Zeep Maatschappij
THE ABANDONED FACTORY IN THE NETHERLANDS
'Lever Zeep Maatschappij' is an abandoned soap factory in Vlaardingen. In the early years it produces Sunlight soap, later many other brands of soap-based products.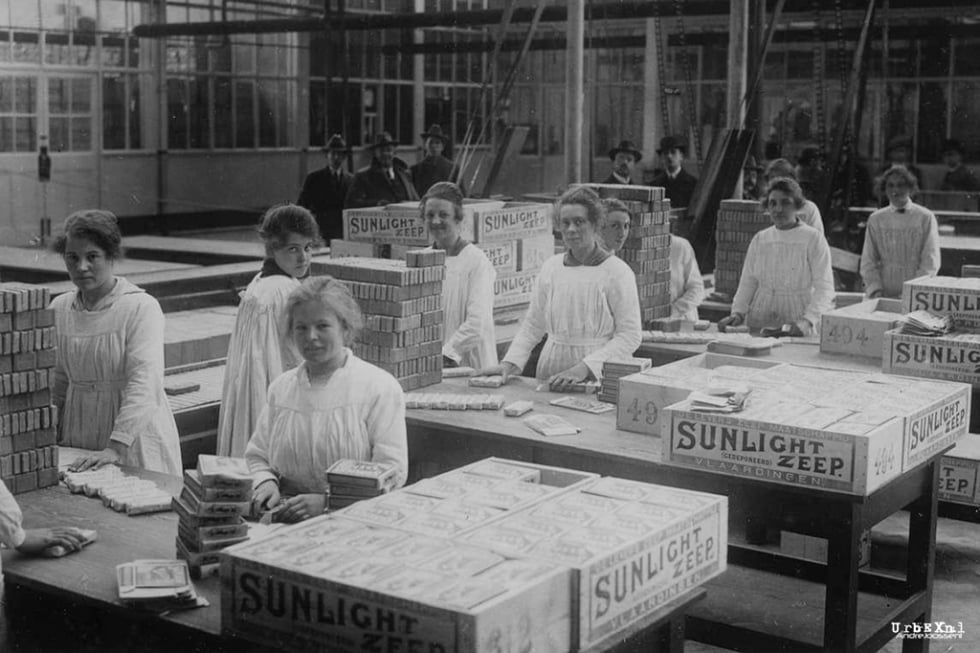 Lever Brothers was a British manufacturer founded in 1885. The brothers had invested in, and promoted, a new soap making process invented by chemist William Hough Watson. It was a huge success. At first, the new soap was named Honey Soap. Later it was renamed 'Sunlight Soap'. Production reached 450 tons per week by 1888.
Sunlight Soap
Sunlight Soap was introduced in The Netherlands in 1901. Because of the big demand, they had built a new factory in Vlaardingen, close to Rotterdam. During 1917 the factory was opened and produced Sunlight Soap exclusively. In 1921 the factory also brought the abrasive powder Vim on the market, in 1922 followed by soap powder Rinso. In 1929 was also the toilet soap brand Lux introduced.
Unilever
Midst 1929 Lever Zeep merged with the Dutch margarine producer 'Margarine Unie', founding Unilever. The occupation during the Second World War caused a lack of raw materials. Many products were no longer manufactured. On 14 February 1945 the factory was used as a launching pad for V1 rockets, that led to a bombardment by the British. Eventually, after the liberation, the production was resumed. In 1952 the synthetic detergent was branded Omo, followed by Sunil and Lux Liquid at the end of the 1950s. They produced the detergent Andy for the first time in 1960. In 1971 came the detergent Bontkracht on the market, as well as the liquid abrasive Jif. All this, and more, was produced in Vlaardingen. All this led to name changes, in 1976 it was: 'Lever Sunlight', in 1986 it became 'Lever'. After a merge in 1998, it became the 'Lever Faberge Sourcing Unit Vlaardingen'.
The factory started to specialize in liquid household cleaners, including international brands Cif and Domestos. Production rose to 150 million bottles per year. Nevertheless, the factory was closed in 2008, along with two other Unilever factories. I visited 'Lever Zeep' in 2014. Also check my report of the Persil factory.