AG Hüttenbetriebe Meiderich
THE ABANDONED FACTORY IN GERMANY
The 'AG Hüttenbetriebe Meiderich' was built in 1901 by the Thyssen company. The mill produced pig iron mainly for processing in the close-by steel mills. In the 82 years of its existence, the Meiderich ironworks had produced 37 million tonnes of pig iron.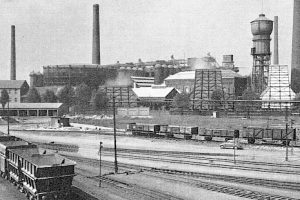 Growing demand for steel from the US and the German navy's extensive shipbuilding plans led to a pig iron shortage around 1900. It was against this background that, from 1901, August Thyssen initiated the building of a blast furnace plant in Meiderich to produce pig iron. Pig iron is smelted with the addition of lime and coke from iron ores. The liquid end product can then be further processed into steel. The plant was supplied with coke directly from the neighboring Thyssen coal mine.

By 1904, three blast furnaces were built at Hüttenbetriebe Meiderich. The fourth blast furnace was completed in 1907 and the fifth furnace in 1912. In that year the workforce increased to 1350 employees.

The mid-1970s saw a worldwide steel crisis and overcapacity in the European steel market. Production in the Meiderich works had to be cut back. From 1979 the sales crisis intensified, leading to the closure of blast furnaces 1 and 2 in the early 1980s. Blast furnace 5 remained stand-by but was never fired up again. The last shift was worked on 4 April 1985. The remaining 300 employees were offered alternative jobs in the Thyssen Ruhrort and Hamborn works. Following massive protests the plant was not demolished, but protected as an industrial monument. More than roughly 180 hectares of polluted industrial wasteland with huge steel structures remained.
1990
Between 1990 and 1999, Emscher-Park created a new type of park which achieves a symbiosis between industry and nature. The 'Landschaftspark Duisburg' was born. Today you can dive into the water-filled gasholder or climb the Blast Furnace 5.
The photos are taken during the Urbexation 2007 weekend what was held in the park. During the night several explorers from around the world climbed the blast furnace and had a meeting on top.