DC-4 Trans Atlantic Airlines
THE ABANDONED AIRPLANE IN BELGIUM
This is an old Douglas C-54 Skymaster, or DC-4 standing on a private airfield in Belgium. The airfield has been the owner of the DC-4 for the past 30 years.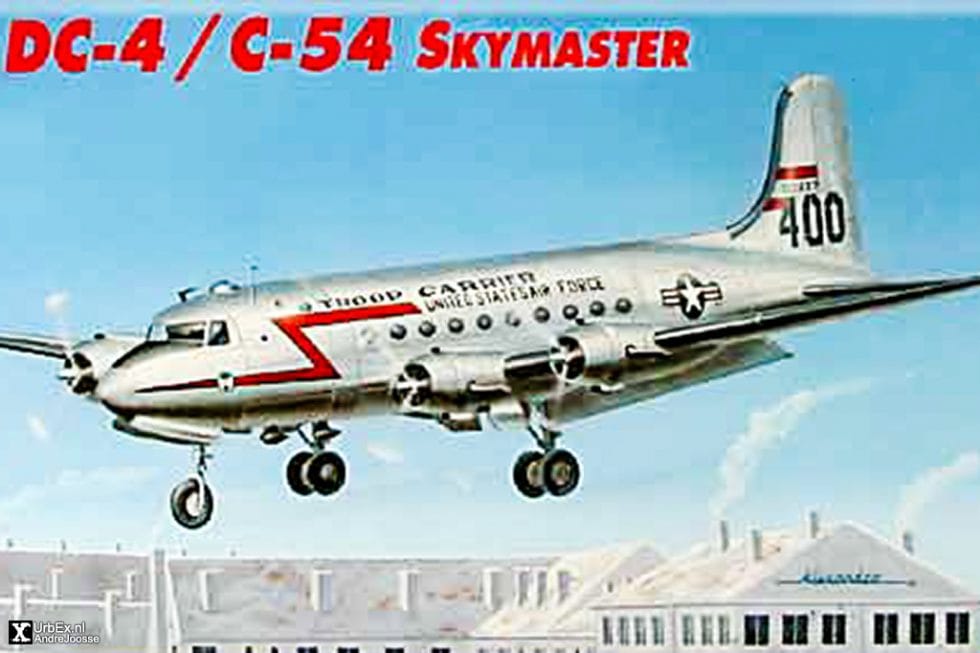 The DC-4/C-54 never flew into the airfield. How it got there is a remarkable story. The DC-4 has construction number 10352. But it was first known as United States Army Air Forces 42-72247. Later it was bought by American Airlines under number N90443 with nickname 'Flagship Texas'. The airplane flew the inaugural flight between Fort Worth and San Francisco with stops in Dallas, El Paso, Phoenix, and Oakland. 

After its career with American Airlines it served with Miami Airlines for three years before ending up with an American registered, England based, and Frankfurt addressed outfit called Trans Atlantic Airlines Inc.
2014
It flew around in Europe, the Middle East and Asia, where it was allegedly used for tourist charters and a lot of shady flights until it was ultimately grounded in Basel, Switzerland. The owner managed to illegally fly the aircraft to Brussels under the fake registration N2894C. However, it was promptly impounded there. After having been grounded for years, the no longer airworthy airframe was sold and brought to this airfield by road. The plane was used as a clubhouse for many years but was left empty in 2014. I took photos of the DC-4 in 2017. For more abandoned airplanes, look here and here.