Château du duc d'Epernon
THE ABANDONED CASTLE IN FRANCE
The 'Château du duc d'Epernon' is an abandoned castle. It was built on the site of a long gone medieval castle. The castle is located in Fontenay-Trésigny alongside the Bréon stream, in the heart of a once walled old town.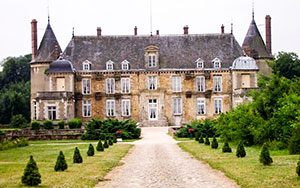 The history of the town is closely linked to the history of the château. The Castellans were lords of Fontenay-en-Brie during the Old Regime. The architecture of the château is marked by the different eras when it was rebuilt after falling more or less in ruins.

The medieval castle was rebuilt by Jean Le Mercier in 1389. It was enclosed by walls and moat, situated around a courtyard with two drawbridges. It used to be built on a pilgrimage road from Paris to Rome. The lord of the castle collected a toll from travelers passing through his domain. The current building has retained the rectangular plan, flanked by round towers. Guillaume Prudhomme rebuild the castle after 1538.
Pleasure palace
The present château dates from the first half of the 17th century. It was built by Jean de Nogaret de La Valette, and was planned as a pleasure palace. The rooms were made comfortable and decorated with tapestries and paintings. The ground floor and the guard room floor were covered with large glazed tiles. The château did not undergo major changes until the beginning of the 19th century. The Marquis de Gontaut-Biron, the owner in 1837, restored the main house, the side wing and the two other wings. To open up the courtyard he pulled down the entrance wing with its turrets, the drawbridge, and two of the corner towers that housed the gothic chapel and a prison. The gardens and the old farm were landscaped into a leisure park.
The château has been classified as a Monument since 1963 and its park land is included in the List of Remarkable Gardens of France. In the 1940s, the château of Fontenay was occupied by youth camps. In 2006, Mr. Samuel Tasse sold the château to a property developer specializing in historic buildings, which came forward with plans for dividing it into twelve apartments and creating another forty-eight in the various outbuildings. However, this was not brought to completion, due to the developer going into liquidation in 2014. The château continues to decay. The Photos of 'Château du duc d'Epernon' were taken in 2015.