Cementificio Pesenti
THE ABANDONED FACTORY IN ITALY
This is 'Cementificio Pesenti' in Alzano Lombardo, a few kilometers from Bergamo, Italy. It was built in 1878 by the Pesenti brothers. Eventually it was abandoned in 1971.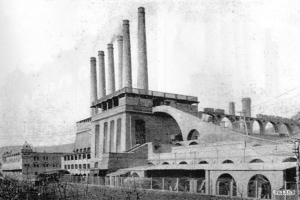 The Pesenti cement factory was built by one of the wealthiest Italian industrial families and is located near the Serio river and a stone's throw from the ancient Morleo canal. As a matter of fact the supply of water was necessary for the various phases in cement processing. The imposing factory was in fact built with the almost exclusive use of the materials that were produced in it, like white and gray cement, three varieties of Portland and ready-set Grenoble cement.

Between the two world wars it employed 400 workers, total production capacity at the end of 1939 was 60 tons, but during the Second World War the plant had to be turned off. Eventually the company became one of the major producers of Portland cement in the world.

The factory closed in 1971 and production was moved to a modern factory. Consequently it was stripped of all equipment and metal accessories in 1973. Although the western part has been recovered and transformed into an exhibition space, the other block, apart from some sporadic guided tours, is falling into decay. Bad news for one of the most beautiful Italian industrial monuments. I visited 'Cementificio Pesenti' in 2010 during my Italian roadtrip. Check this link for more abandoned cement factories.