Cartiera Vita Mayer
THE ABANDONED FACTORY IN ITALY
This paper mill 'Cartiera Vita Mayer' is divided by the Olona river in two different plants. Both plants have a common history from the 1950s.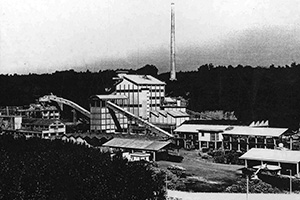 The history of this site goes all the way back to 1608 when already a small textile mill was active here in the Olona Valley. This textile factory processed old rags, but eventually the first paper was produced around 1750. In 1853, a new paper mill was built. After different owners, during 1881 it became 'Cartiera Canziani & C.'
In 1891 the business was taken over by Enrico Vita, who renamed it 'Cartiera Enrico Vita & C.'. Thereupon he expanded it with new buildings and modernized the production drastically. After Enrico Vita died in 1900, the company took the name of his son Fratelli Vita. In 1904 Matilde Vita married Sally Mayer, a member of an important Jewish family of industrialists from Turin. Eventually the two families founded 'Vita Mayer & C'.

In 1904, with the opening of the Valmorea Railway, various special infrastructures were built near the paper mill. In 1908, when the company employed 440 people and produced six thousand tons of paper a year.
World Wars
Between the two World Wars the paper mill was enlarged in the south with some tall yellow-painted buildings and modern machineries. During the Second World War, new race laws against Jewish people led to a critical situation, both families were forced to leave the country and the regime took control. Plant 1 was classified as A-industry, strictly necessary for the national defence. In 1940 it employed 957 people.

After the war, the ownership returned to the owners. The decade from 1950 to 1960 is known as the golden age, financially supported by Marshall Plan. As a result the paper mill was enlarged and highly modernized. In the 1960s the production was around 80 thousand tons a year, paper was transported with six freight trains every day. 2500 workers were employed.
Abandoned
In the 1970s the company suffered a rapid decline due to international competition, closure of the railway service and the political and social uncertainties of the moment. Also the company was damaged by two consecutive Olona floods. Despite union support and state funding, it was declared bankrupt in 1977. Starting from the 1990s, various projects aimed at redeveloping the area followed one another, but none of these were successful.The site is now an abandoned area, with only the northern part of the old factory recovered and restored, the rest is sadly in a state of neglect. I visited 'Cartiera Vita Mayer' in 2010.