Carrière de Quenast
THE ABANDONED QUARRY IN BELGIUM
'Carrière de Quenast' is the largest open pit quarry in Europe, with an area of 140 hectares and a maximal depth of 125 meters. The site is still active today, but the old buildings were demolished in 2019.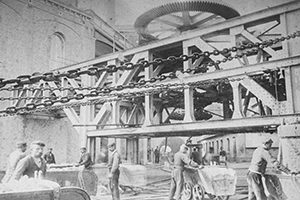 The quarry was used to extract Porphyry to make setts or cobblestones. These Setts are used in particular on many old Belgium roads. Porphyry is an extremely hard and resistant rock that formed 435 million years ago. The Porphyry deposit in this region has been known since the end of the Middle Ages. Eventually, the first company started mining here in the 17th century. In 1705, there are already seven main quarries as well as several small mining companies.

Production rises to more than a million and a half paving stones a year, and the reputation of the products is rapidly expanding beyond the Belgian borders. By the end of the 18th century, both the improvement of drainage techniques and the mechanization of quarries enabled the quarries to grow. Also, the construction of the Brussels-Charleroi canal accommodated growth.
Carrières de Porphyre de Quenast
During the year 1846, Joseph Zaman took over the management and rebranded the company name to 'Société Civile Zaman et Compagnie'. Almost 20 years later, in 1864 the company was taken over and renamed into 'Société Anonyme des Carrières de Porphyre de Quenast'. Industrialist Adolphe Urban took over the management of the company in 1869. He built a 125 meters long tunnel to connect the extraction site to the setts factory. Meanwhile, nearly 250 thousand tons of paving stones were produced and exported all over the world.
In 1946, the company merged with 'Nouvelles Carrières du Brabant' and not much later with 'Carrières de l'Ermitage'. After the war, the entire road network was modernized and eventually the production of cobblestones was completely stopped in the 1950s. Eventually, in 1985, 'Gralex Beton' acquired the quarry. They produce crushed porphyry for use in both concrete and asphalt. Its current production is 1.8 million tons of porphyry per year.
Today, the quarry is still a workplace for sixty people. The photos are taken in the power and pumping station in an abandoned part of Carrière de Quenast. The photos were taken in 2017, unfortunately the old buildings were demolished in 2019.