Steenfabriek Boudewijn
THE ABANDONED FACTORY IN THE NETHERLANDS
'Steenfabriek Boudewijn' and its quarry originated on the east side of the Dutch town Ossendrecht as a result of the extraction of minerals like clay, loam and marl.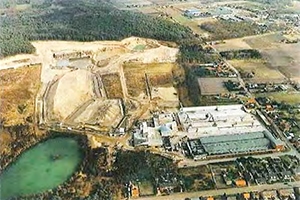 The quarry is an open-pit mine, nothing more than a large hole that, after mining of the minerals, was closed with sand.
In 1999, after 40 years, Steenfabriek Boudewijn had to close its doors. The permit to extract from the quarry in Ossendrecht is no longer continued that year. On the site there are many signs warning for quicksand. Officially the quarry of 75 hectare should be equalized by the Boudewijn company, but the 10 meter deep quarry will be kept as a nature monument.
Fire
Local youth who trashed and squatted the place several times put a definitive end to it, they burned down half the factory in June 2006. Several fire engines were needed to put the flames to a stop. After the fire, and because of the many complaints of the neighborhood, the factory was demolished. The former director's residence has not been demolished and is still on the western side of the terrain. This property may soon become part of the new residential area. I visited 'Steenfabriek Boudewijn' in 2006.