Camp Gabrielle Petit Hitfeld
THE ABANDONED MILITARY SITE IN GERMANY
'Camp Gabrielle Petit' also known as 'Camp Hitfeld' is an abandoned military site on the outskirts of Aachen. It was built during the Second World War by the German Army.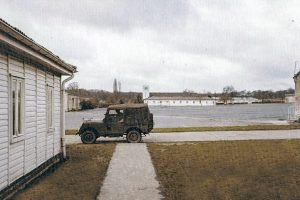 In the early days this camp was used by Nazi Germany. The site was originally a munition depot as part of the Aachen-Saar Program to construct the Westwall. After the Second World War the Allied Troops took over the camp. This region was under control of the United kingdom during the Cold War. The BSD, the Belgian Armed Forces in Germany was based here, together with the British Army.

The BSD was responsable for almost 60 years of allied occupation in Nordrhein-Westfalen. The camp in Hitfeld was used for distribution of military goods and post. Letters and packages for every Belgium camp in Germany was first transported to Camp Gabrielle Petit in Hitfeld.
1992
When the Belgium Army left the barracks on the outskirts of Aachen in the early 1990s, most of the buildings have fallen into decay. The buildings got trashed and vandalised. Some of the buildings were moved to Belgium and are still in use today. There are no future plans for this camp. I took these photos of 'Camp Gabrielle Petit Hitfeld' in 2007.