Tropicana Rotterdam
THE ABANDONED POOL IN THE NETHERLANDS
Tropicana was a subtropical swimming paradise in the center of the Dutch city of Rotterdam. Eventually, it was abandoned in 2007 and is a city garden today.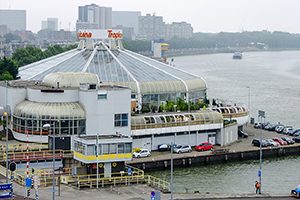 The original owner sold the pool because it didn't fit in the vision of the company. Meanwhile, it was sold in the mid-1990s.

The Tropicana swimming pool had not only a wild water river, but also a sauna and a nightclub. The place was unique for that time and filled with palm-trees and other tropical attributes. Along with the constant temperature of 30 degrees, it sure was a tropical experience.
Mushrooms and start-ups
In 2007 inspections show many shortcomings and the owner was given a penalty. Because it was too expensive to get the pool to the required standard, the place went bankrupt. For a short time the building was used as a city-greenhouse. But later the pool was used by RotterZwam. As a result, in the cellars, former staff dressing rooms and old beauty salon are sacks full of coffee grounds from which pink and gray oyster mushrooms grow. Eventually the old pool was transformed into BlueCity, a place for new innovative start-ups.

I took these photos during my visit to the pool in 2013. Follow this link for more abandoned pools.