Tropicana
THE ABANDONED POOL IN THE NETHERLANDS
Tropicana was a subtropical swimming paradise in the center of the Dutch city Rotterdam.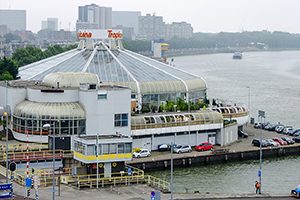 The original owner sold the pool because it didn't fit in the vision of the company. It was sold in the mid-1990s. Tropicana had a wild water river, a sauna and a night club. The place was unique for that time and filled with palm-trees and other tropical attributes. Along with the constant temperature of 30 degrees, it sure was a tropical experience.
2007
In 2007 inspections show many shortcomings and the owner was given a penalty. Because it was to expensive to get the pool to the required standard the place went bankrupt. The pool will be transformed to a new use soon, most of the building will be demolished. For the time being the building is temporary used as a city-greenhouse. I visited the pool in 2013.