Station de Chimie et de Physique Agricoles
THE ABANDONED LABORATORIES IN BELGIUM
These abandoned buildings are the 'Station de Chimie et de Physique Agricoles' in Ernage. The laboratories were built in the early 1900s and were abandoned in 2004. Eventually the site was demolished in 2021.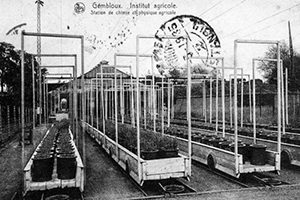 The laboratories are situated in a Belgian village named Ernage. As a matter of fact the village is a well known area for its scientific researches in the agricultural field. For this reason the labs were built here, at the beginning of the 20th century as an outbuilding of the Gembloux University.

The 'University Faculty of Agricultural Sciences' in Gembloux was founded in 1860 in the old buildings of the Benedictine Abbey. Eventually the faculty has established itself as a specialist in the field of agricultural science and biological engineering.

This station in Ernage had both offices and laboratories, the latter were subdivided in chemical, microbiological and nuclear sciences. In general the station was an important institute to provide answers to questions like environmental toxicology, nutrition and molecular biology. Eventually the building was abandoned in 2004 when the laboratories moved to Gembloux. I visited the 'Station de Chimie et de Physique Agricoles' in 2011 during a road trip through Belgium. More abandoned laboratories can be seen here. The site was demolished in 2021.